Hebei has built 80 sets of urban meteorological disaster monitoring stations in real time monitoring urban waterlogging and water purposes
Author:Great Wall Time:2022.09.30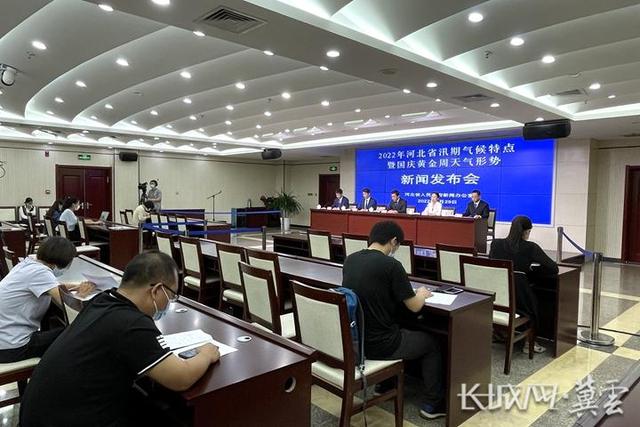 In 2022, the climate characteristics of the flood season of Hebei Province and the National Day Golden Week Week Weather Situation Press Conference. Photo by Great Wall Network · Jiyun client reporter Gao Linzhe
Great Wall Network · Jiyun Client, September 29 (Reporter Gao Linzhe Peiche) On September 29, the reporter was learned from the Flood Session of the Hebei Provincial Flood Session and the National Day Golden Week Weather Situation Situation Conference held by the Hebei Provincial Government News Office on September 29. , Hebei has built 80 sets of urban meteorological disaster monitoring stations to monitor urban waterlogging and water accumulation in real time to provide data support for urban waterlogging risk early warning.
Li Xiang, deputy director of the Emergency and Disaster Reduction Office of the Hebei Provincial Meteorological Bureau, introduced that the Meteorological Department of the Hebei Province has always attached great importance to the safety operation of urban safety operation. It has initially established the threshold system of urban waterlogging and rainfall. , Further optimized the support platform of meteorological disaster defense decision -making, incorporating products such as live, forecasting, early warning, urban waterlogging risk level forecast in the platform into emergency, water, housing construction, urban management, transportation, electricity and other cities to operate the city Provide refined weather guarantee services.
In addition, the Meteorological Department of Hebei Province fully connects the urban operation of sensitive industries, sensitive people, and mainstream media in the province, and improves the targeted and timely time of the release of early warning signals. For example, the warning information of more than 80,000 courier brothers in the province was jointly covered with the postal department. SMS releases. At the same time, we deepened the cooperation of the department and established an emergency linkage mechanism with high -level early warning signals, and strengthened the early warning and preventive response of extreme weather such as heavy rain.
- END -
Ji Shi client report (Du Yanqing Wang Yan, a correspondent Li Zi, Hebei) Shijiazhuang Daoqiao Facilities Management and Protection Center (7.16-7.22) will plan to face the roads and bridges such as Xi
● The Corps Daily All -Media Reporter Wang Sufan Ma XuejiaoThe afterglow of the setting sun sprinkled from the distant peaks and mountains to the earth, dyeing the border line into pale pink. On the